Welcome to Take Over Tuesday, a Facebook and Twitter hop, hosted by
Closer to Lucy
,
The Thrifty Things,
and
3 Princes and a Princess 2
. Each week we will have either a Twitter or Facebook Hop.

This week, it's Twitter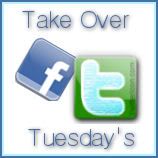 Leave your Twitter link in the linky and follow the hostesses. We will follow you back.
This week's spotlight is Maves Faves
:
I am looking for a way to connect with people. A friend of mine was sharing with
me how much she enjoyed her own blog and encouraged me to try it. She has so
graciously offered to help me get started. I am looking forward to learning more
about blogs and curious to get to know all those who visit my blog.
Visit her blog http://mavesfaves.blogspot.com/ or find her on Twitter
Follow as many people as you like and leave a comment on their page to let them know you are a fan. Remember, following back is appreciated!